Wordle Solver
Our Wordle Solver is a great tool that gives you specific words based on your guesses. This Wordle Word Finder keeps the fun of the game so you can keep guessing and playing, instead of looking for the solved answer online. You'll have fun, learn new words, and have a shortlist of ideas to try out so you can win today's Wordle on your own.
How to use our Wordle Solver
Start by entering a word using our start word suggestions below, then you'll be able to get the most out of our Wordle Solver. Narrowing down your options and getting some important letter clues is key to winning the daily Wordle challenge.
Input the Green Letters in the "Known letter positions" boxes
When the right letter is in the right position it will appear in green. If you have any green letters you will want to put that letter in one of the five blocks under "Known letter positions". Make sure that the letter is in the right block, otherwise the suggestions that appear when you hit "Solve!" won't work!
Put the Yellow Letters into the "Other known letters" box
If you have guessed a letter that is in the daily word, but not in the right position, then put them in the "Other known letters" box. One thing to keep in mind for your strategy going forward is that you actually learn a very important piece of information from the yellow letters. Though the yellow letter is not in the correct position you know where it isn't located.
For example if you guessed STRIP and P was a letter that was in the daily word, but not in the fifth position, you know that P has to be located in spots 1 to 4.
Enter the Grey Letters into the "Excluded letters" box
The letters that are not in the daily word are just as important clues as the letters that are included.
Add the grey letters to the "Excluded letters" section. As you continue to make guesses you will want to update the form so that you get the best possible answers and can make smarter guesses.
Hit Solve
Once you have inputted all those clues, you will then want to hit Solve! This will bring up a list of possible 5 letter words from the clues you have submitted.
What is Wordle?
Wordle is a popular online word game developed by software engineer Josh Wardle and published by The New York Times in October 2021. In November there were 90 players, by the start of 2022 that had increased to 300,000, and now millions play. To win you need to guess the 5 letter word in 6 tries or less. Every time you enter a guess, you'll be informed which letters are correct, and which aren't. If the letter is in the right position it will be green, and if it's in today's word but not in the right spot it will be yellow.
While a huge part of this word game is challenging yourself to guess the word in those six tries it can be frustrating to lose your streak. If you need a Wordle hint, are looking for today's Wordle answer or want a leg-up to start winning more to impress your friends or co-workers, you have found the right place.
How can I find Today's Wordle Answer?
There are 12,500 five letter words in English, which means that guessing the word in one go is incredibly unlikely. If you do manage to actually guess the daily word with your first try, it really will be a matter of chance rather than skill. While you can usually search for today's Wordle answer online, this takes the fun out of the game.
For most Wordle players getting the answer right on the first try isn't the point of the game but getting the answer right in as few guesses as possible is. When you play alongside friends or family (or your coworkers), there is the added fun of comparing your guesses and seeing just how you got to the answer.
The sheer variety of different words and strategies that can be used is a great addition to the overall simple puzzle game. Though they seem like simple pleasures there is a reason why the game has become so popular, so quickly.
So you can always search for the answer online, and if it isn't currently online then wait a few minutes or check again in an hour until someone has published the daily answer for you. If you enjoy solving the puzzles for the fun of the game, however, then there are other ways that you can find today's Wordle answer without immediately looking for the answer itself.
While you can of course develop your own strategies, get a pen and paper to write out different options or just try out different spellings and words without submitting your answer on the Wordle page, these won't always help you find the right answer before your sixth guess. If you are looking for a simple, effective tool that helps you guess better without giving the entire game away, then our word finder is the right tool for you. You can use it for the daily challenge or to help you during other word based puzzle games.
This tool can help you narrow down today's Wordle answer and can also help you with many other similar word based puzzle games so that you can challenge yourself without losing your streak.
Can I cheat at Wordle?
Wordle is a very simple puzzle game that is played by people around the world. Every day a new word is released and everyone takes their shot at guessing that word correctly in six tries or less. Since everyone is working to solve the same 5 letter word the answer is found and published online within a few minutes, so you can easily cheat at Wordle if you really want to.
Though it's easy to cheat at Wordle by looking for the answer online in just a matter of seconds, this ends the game before it even begins. If you are looking for a little extra help, without having the full answer simply given to you, then you have come to the right place. Our anagram solver works with the clues you input.
Other ways that you can cheat without immediately solving the answer is to keep a list of previous answers. It is unlikely, after all, that the Wordle answer will be the same as a recently used answer. This used to be very simple to look up, as Wordle kept an archive online that you could play through or check. This archive, however, is becoming increasingly difficult to find.
This is because the Wordle archive has been taken down at The New York Times' request, so you only have the current puzzle to play at a time. One of the main reasons why The New York Times has pushed for publishers to remove past words is specifically because it was so helpful for solving the current problem; players often used recent past answers to eliminate common 5 letter possibilities.
Therefore, if you want to personally improve your strategy by using previous answers to inform your guesses, then you will want to start keeping a list for yourself.
Another big reason why The New York Times is pressuring these third-party publishers to shut down their Wordle archive is so to protect their intellectual property. Though many of NYT publications are behind paywalls, Wordle is still free to play. As it is a great way to challenge yourself and your friends to a simple, fun word based puzzle every day it is also accessed by many people not paying the NYT.
If you find the one puzzle per day framework frustrating, don't worry! Though Wordle itself only refreshes once per day there are many similar word games you can download for free on your phone. They are just as fun and can help wake up your mind or just give you a fun little puzzle to work out at any time of the day. Some of these similar games are great for solo play, and others still offer a coop play option that lets you play against your friends.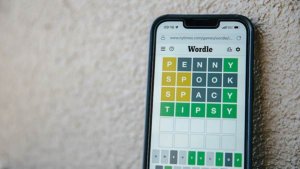 Get a Wordle Hint using our Wordle Solver
Using our Wordle Solver is a great way for you to get a Wordle hint, and not the answer outright. Using our tools gives you a leg up in the challenge without taking away the fun completely. You can always just search for the answer, but that's boring. Keep having fun and challenge yourself or your friends and coworkers without the frustrating experience of just not being able to even think of five letter words on the spot.
This Wordle Solver can be used for Wordle and many Wordle-like games that challenge your mind. Use it as a last resort tool to help you win in the last moment on the sixth try or use our free online tool alongside your playtime.
Begin with these top starter words
To use this Wordle Solver to get a Wordle hint you will first need a few clue letters to input into the algorithm. By choosing starting words that don't have any repeating letters you can maximize the number of possible correct letters, even if they aren't necessarily in the right place.
There are many great starting words to use, and many players have their favorite starting words that they use again and again. What makes a great starting word? A great starting word has a few key characteristics.
The first characteristic is that none of the letters repeat, giving you six possible chances to get at least one letter correct.
You will also want to choose a word that uses at least one common letter, and one that uses as many vowels as possible.
Here are five great starting words to consider using today:
ADIEU
OUIJA
AUDIO
LATER
IRATE
Eliminate vowels first
One of the best ways to get started with any Wordle puzzle is to eliminate your vowels first. Using the first and second try to determine which vowels are used in today's word is a great place to start. Every word in the English language will use at least one vowel, so knowing which vowels are in today's word, and which aren't, will immediately narrow down the possible combinations.
With starting words like ADIEU, OUIJA, or AUDIO you can tick off four of the possible vowels all at once.
Most five letter words have one to two vowels at most, so if you have two green or yellow vowels there is a very good chance those are the vowels in the word and the rest would be greyed out if you were to use them.
Common paired vowels
Some vowels appear next to each other. While there are many vowel combinations there are a few that are used over and over again and therefore smart options to use with your Wordle guess.
While these are the most common vowel pairs it is important to remember that there are repeated letters like EE or OO are also frequent in the English language and Wordle does not have a system that informs you whether there are two of one letter in your daily word.
Keeping in mind the double pairs of EE and OO will help you pick the right word, especially when you feel stumped.
Start with words with these common consonants
The most common consonants in the English language are R, S, and T.
While your first guess should try to use as many vowels as possible your second should then try to use as many consonants as possible.
A few great five letter words that contain R S and T include:
SMART
STRIP
CREST
RIFTS
HURTS
Use what you know about the vowels in today's word to help you pick out which word offers the largest number of options. For example, if your first word was AUDIO then you should choose a five letter consonant heavy word that also covers the relevant vowels.
If you used AUDIO to start and CREST second you would cover all vowels and the three most common consonants at once. This will give you the greatest chance to get important letter clues.
Using a Wordle solver like this one is a great way to narrow down your list and keep your guesses focused. It's perfect for when you're attempting to solve the puzzle early in the morning but find your brain hasn't quite woken up yet, or when you just can't think of options and can't get your brain to cooperate. Instead of looking for the answer and (essentially) giving up, this solver will give you a shortlist of options that you can then pair with these additional strategies so that you continue to win and feel great about it.
An excellent place to start is by knowing the most commonly used letters in the English language. These are, in order of greatest frequency to least commonly used, are: E, T, A, I, N, O, S, H, R, D, L, U, C, M, F, W, Y, G, P, B, V, K, Q, J, X, and Z. This list encapsulates letters in frequency in the entire English language, however, which means that the most commonly used letters in word games is actually different.
That's why the Concise Oxford Dictionary has a slightly different list. What this means is that you will want to focus on this list of letters starting from most frequently used to least frequently used: E, A, R, I, O, T, N, S, L, C, U, D, P, M, H, G, B, F, Y, W, K, V, X, Z, J, Q.
Since this second list outlines the letters most commonly used in word puzzles it's far more useful for you. Pick out words from our list that feature the letters most commonly used first.
More on our Wordle Solver
How does the Wordle Solver work?
The Wordle solver takes your clues and generates a list of possible solutions. Our Wordle solver is slightly different than a traditional anagram solver because it takes into account all available possibilities unless you have explicitly stated the letters that are not in the daily word.
By inputting the letters you know, either in their known letter position or in the other known letters box, and excluding the letters you know are not part of the answer, you can create a short list of potential options.
Don't be discouraged if the clues you input initially give you a huge list. If you have a large list, choose a word that has as many unique letters as possible. You will also want to double check to make sure that the letters are in the right possible combinations. For example, if the day's word has an R, but not in the second position, don't choose words like GREEN as you know that the R should not be in the second position.
By choosing a word that meets these qualifications you should either win, or more likely be given more important clues that you can then update in our Wordle solver so that you can have a small list of ten options or less. A good idea from there is to choose the most commonly used words. In the list of options, you may see words like BREME, an archaic word in English which means severe or fierce, either of weather or a person. Though this is an English word and is spelled correctly it isn't likely to be the answer since it isn't in the common lexicon.
Instead pick the word that is most commonly used, as this gives you the highest chance of winning in the next move.
Is the Wordle Solver free?
You can use this Wordle solver online free every day, and as many times as you need. We have created a simple but effective application that can help you pick the right answer when your mind just isn't working with you or if you are ever stumped.
The tool that we have used to create this Wordle Solver is very simple and uses simple computation alongside the English dictionary of words to help you with your game. You will still need to use strategy and deductive reasoning in order to pick the best next guess and eventually the answer.
This simply means you have better guesses, but it in no way takes away the fun of your game.
Is the solver tool a Wordle Cheat?
While some may consider this solver tool a Wordle Cheat it is more of a support tool. Cheating is even easier than using this tool, since you can just go online and search for today's answer on your favorite search engine.
That's why our word finder isn't a cheat so much as a helpful support system that can help you keep your streak and can even make it more fun to play Wordle (and other similar games) every day. Over time you'll actually increase your repertoire of 5 letter words and develop a robust strategy that can help you solve Wordle without any support tool involved.
Will it work with today's Wordle answer?
This solver tool will work with the Wordle answer today, tomorrow, and every day in the future. Not only can you use this anagram solver tool to help you figure out the daily Wordle word, but you can also use it for other similar games that you play online, offline, with friends or alone.
You could even use this Wordle tool to host a Wordle challenge of your own. The developer of the game initially created the game and hosted it on a messaging app between his friends and family. You too could host such a game.
With so many existing options, however, all you really need is to find the game options that suit you. The online Wordle game hosted by the New York Times is free to play, and you can even create a free NYT account so that you can keep track of your progress and compare that progress against your friends and family.